ALEXANDER VON AGOSTON
Cafe Berio - WC Kabinette
Rest Rooms
Ausmalung der WC Kabinette im Cafe Berio August/September 2001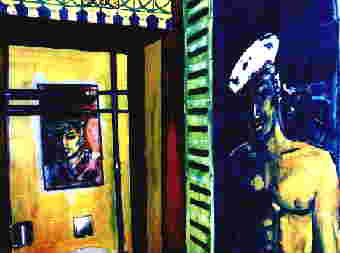 Maenner Wc - Mens Restroom
I waited for the call of the National Gallery, but Cafe Berio was first. Mr. Schuett asked me to design and paint theire restrooms. Well I said, that was not what I had been looking foreward to, but why not, sounds like an extravagant job.
I made my first scetches, and decited not to paint any portraits at the walls, because of the special location, but then I saw that a restroom is a perfect chamber to have people minimum for half a minut in front of my pictures, and thats great!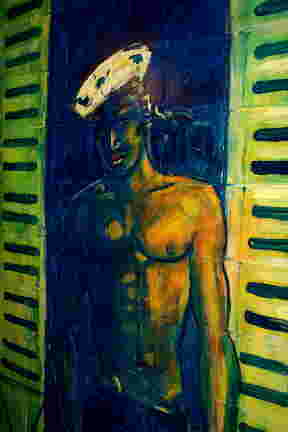 There is allways a sailor involed in my instalations. This handsome guy, is just waiting for something. ask him!
There is nothing wrong with restrooms conversation.

But first lets go one step back: The Restrooms from outside: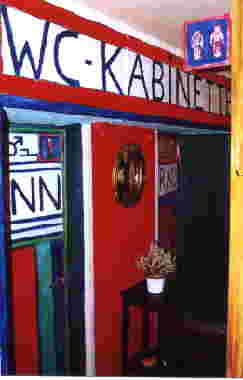 I called the Restrooms not Restrooms nor just WC or whatever, but "WC - KABINETTE", wich should remember people to visit something like an art chamber, what in fact it is.
Man and Woman, thats what written on the doors to tell guest where they are supposed to go.
I did not want to write Lady and Gentlemen on top, because of the simple reason why we are going to visit this location. So I took simple words.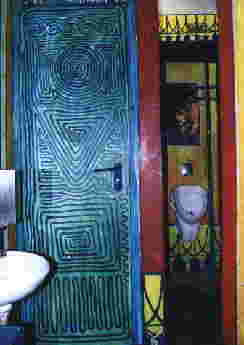 ERRARE HVMANVM EST
The errare humanum est door, in the mens room shows an labyrinth.
The labyrinth of life. Its hard to find the right way.
(And in the end you find Minotaurus)
And allways you have to think about the big question: I am on earth, why?
First step to find the right answer was given by the ORAKEL of DELPHI.
Over the entrance to the main hall was written:
ERKENNE DICH SELBST
Sounds all greec to you?, rigth, but this was allready the german translation. smile.
See your self
I wrote it on the wall in mirror writing opposite of the mirror, so you read it while looking in the mirror to wash your hands and check your hair.
Recognize.
I started my work in the end of august 2001. Mr Lang from the Frinds of Arts Chicago invited me to the States. My flight to America was on Sep. 4 th. I was not able to finish my work. I hate to interrupt the process of working, but there was no other way. The first time in life, I signed before end. I said to my self, you never know, if you come back, so put your name under your work.
I had a great time in Chicago. I liked the COYOTE ART FESTIVAL. And thats why I participated in the nex year, this was 2002.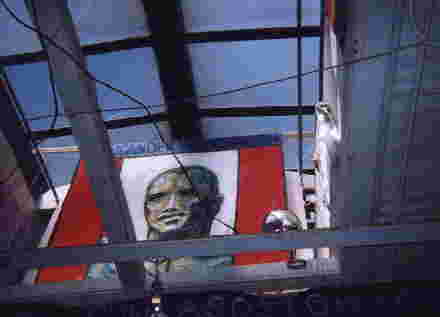 Flat Iron Building, Chicago, America.
My flight back was on tuesday. In the morning I ride my bice to the lake, took a swimm, and made my last Chicago sketches.
Before meeting Mr. Lang at the studio I had a Kaffee at Caribou in the Broadway. I sat outside. The sun was shining, men were talking about the colours of there T-shirts. A man came along and layed on every table a little long sized leaflet. It was so calm.
I read:
REMEMBER LOVE - DO NOT RETALIATE
Yes its allways good to remember love, but what in heaven does RETLIATE mean? It must be something opposite to love. I will look it up at home, I thought, and went to the studio. Tomorrow I will be in Germany again.
Pustekuchen. It was september 11th. No Flight back...
When I came back two weeks later to continue my work at berios restrooms, the world had changed and my projekt too.
The womans restrooms now became less philosophical but more political than the mens one.
remember love, do not retaliate.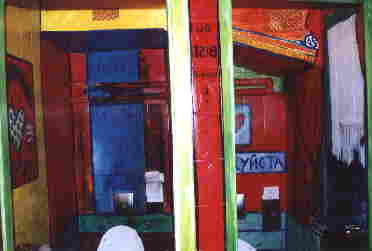 Frauen
On the green line down is written what an old roman grave stone tells:
ERAM QVOD ES - ERIS QUOD SVM
Du bist was ich war -Du wirst sein was ich bin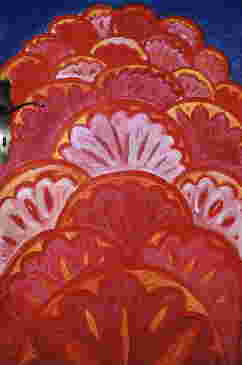 Tuer zu den Frauen.
When the girls look into the mirror, they will read in the back ground:
DU BIST SCHOEN!
You are beautiful!
And then they will come out of the restroom with a smile.
Fortsetzung folgt.
---
Berio Ausstellungen:
| | | | | | | |
| --- | --- | --- | --- | --- | --- | --- |
| 1998 | | 2001 | | 2004 | | 2007 |
| | | Fishermans Friend | | | | |
---
Ende der Seite